Explore The Factory before it's built through the eyes and the imagination of artist LaTurbo Avedon
Experience Your Progress Will Be Saved as a player in Fortnite Creative, via our special online adaptation or through live streams on Twitch
About
Virtual Factory is a major series of online artworks inspired by the architecture and the ambition of The Factory, a new cultural space located in the heart of Manchester (UK).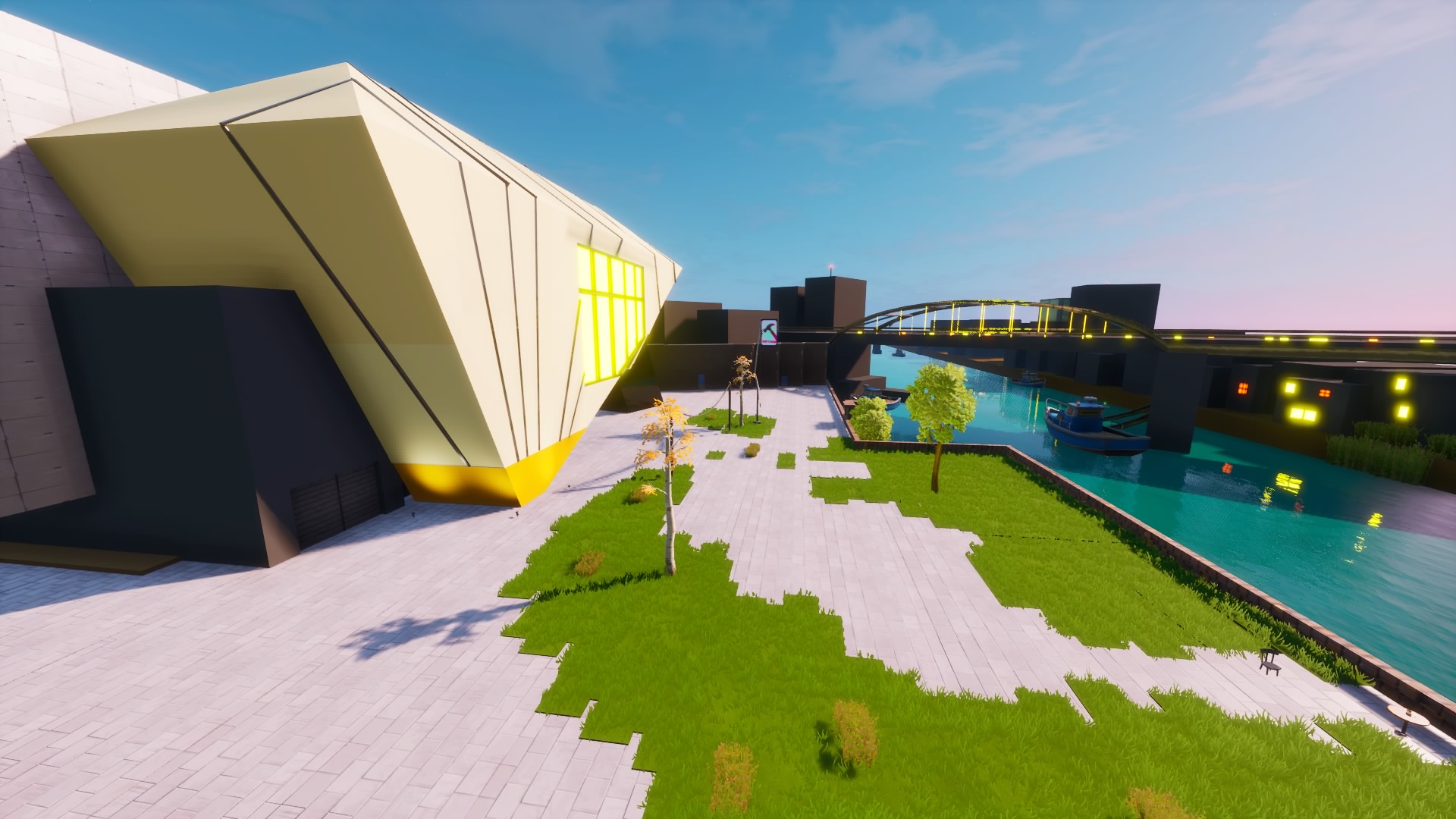 We've invited some of the world's most exciting artists to make online works that throw open the doors of our future home before they've been built – laying the foundations for what will be possible at The Factory.
The four artists will reimagine our world and construct new worlds of their own, reclaiming the virtual environment as a space for infinite possibility. The programme features new work from:
LaTurbo Avedon is an artist and avatar that shapeshifts through the digital realm and multiplayer games such as Second Life and Final Fantasy. Your Progress Will Be Saved, which launched Virtual Factory, premiered in summer 2020.
Tai Shani is a Turner Prize-winning visual artist who crafts dark, fantastical worlds drawing on forgotten histories - including The Neon Hieroglyph, the second Virtual Factory event, which premieres in March 2021.
Robert Yang is an artist, writer and game designer who has created a series of acclaimed videogames on gay culture and intimacy, and who will be presenting his Virtual Factory work in July 2021.
Jenn Nkiru is known for her powerful films on Blackness and Black identity and her new work will complete the Virtual Factory series in late 2021.
As videogame creators develop ever more compelling and complex online universes, it's impossible to ignore their influence on our world. Virtual Factory explores how artists are responding to this cultural shift, pushing us to consider how virtual architecture can become an extension of our bodies and minds.
Follow the journey on social media by using the hashtag #VirtualFactory.
About The Factory
The Factory is a new world-class cultural space currently being built in the heart of Manchester, UK. Inspired by our city's unmatched history of innovation, it will be the year-round home of Manchester International Festival – a space for the world's greatest artists and thinkers to make, explore and experiment, and for communities and individuals from Manchester and beyond to meet, exchange ideas and learn new skills.
The Factory is designed by Rem Koolhaas's OMA, with Ellen van Loon as Lead Architect, and backed by Manchester City Council, HM Government and Arts Council England. You can discover more about The Factory and experience a virtual tour on the MIF website.
Tai Shani
Turner Prize winning-artist Tai Shani takes us beyond the merely mortal and into the mystic with The Neon Hieroglyph, her first online artwork. It's the latest world premiere in Virtual Factory, an ongoing digital series inviting artists to imagine new virtual worlds in response to the physical architecture and artistic ambition of The Factory, MIF's future home.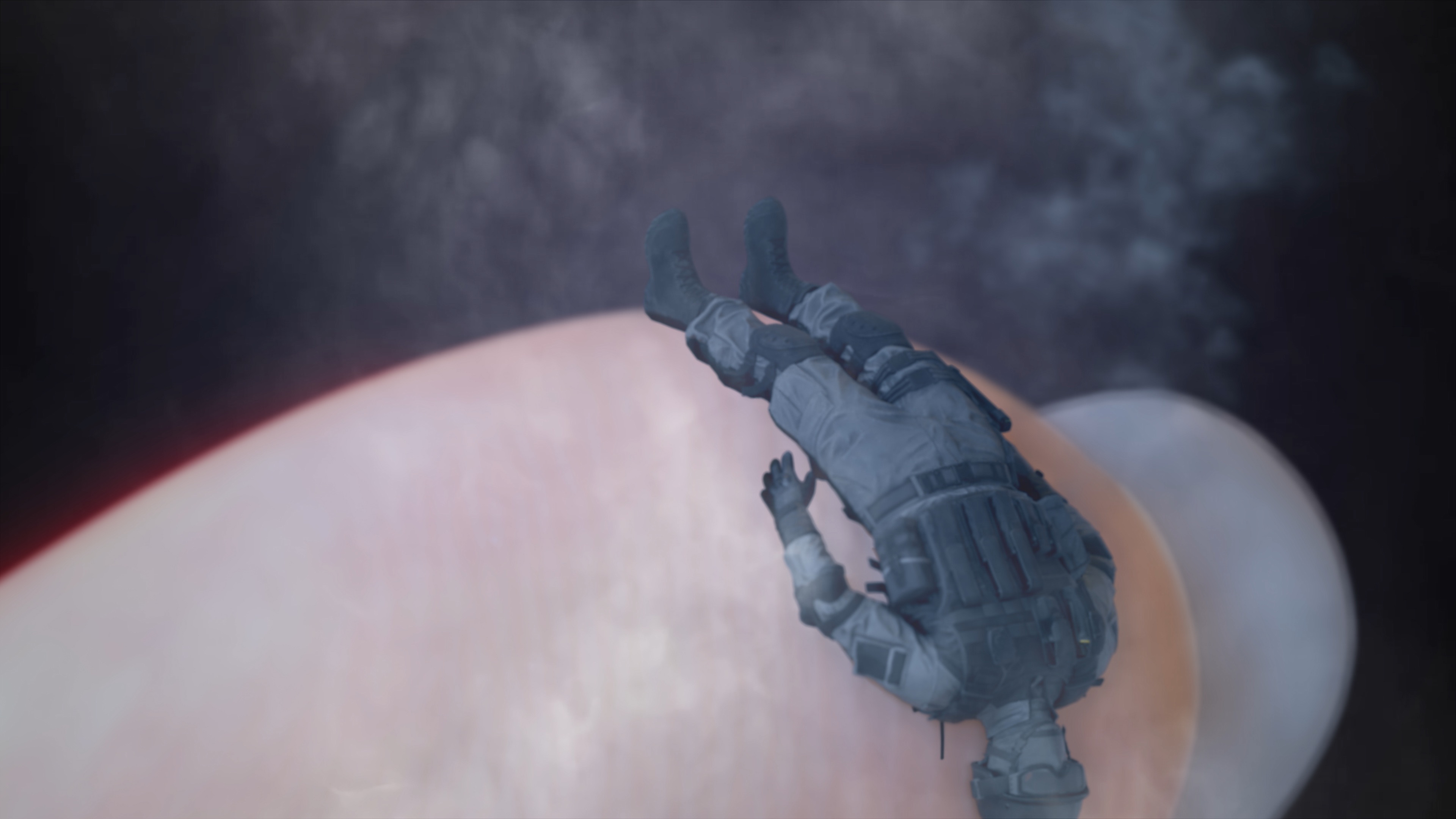 'The building of a house we will never live in – a house for our ghosts where the gothic and the hallucinatory collide.'
Tai Shani creates worlds that are at once dark yet luminous, both feminist and fantastical – and in The Neon Hieroglyph, she constructs a story-world that draws inspiration from her research into ergot, a fungus that grows on rye and other grains from which LSD is derived, as a psychedelic catalyst.
Ergot played an important part in the North West's agricultural, social and medical history: linked to local crops and breads, outbreaks of ergot poisoning caused mass hallucinations, with the last reported UK incident during the late 1920s in Manchester. The Neon Hieroglyph uses these experiences to spark new visions and alternative realities: a dreamlike CGI journey that takes us from the cellular to the galactic, from the forests to the subterranean, from the real to the almost unimaginable.
Composed of nine short episodes and featuring a mesmeric soundtrack by Manchester-born composer-musician Maxwell Sterling, The Neon Hieroglyph anticipates the kind of extraordinary new art that will be created, produced and presented at The Factory in the coming years.
Watch The Neon Hieroglyph here.
About the artist
Tai Shani creates large-scale immersive installations, combining experimental texts, performance, film, photography and sculpture. She takes inspiration from disparate histories mined from forgotten sources and transforms them into rich and complex monologues that explore feminine subjectivity.
She lives and works in London. She has exhibited widely in the UK and internationally including at Tate Britain, London; Turner Contemporary, Margate; Hayward Gallery, London; Nottingham Contemporary, Nottingham; Glasgow International, Glasgow; De La Warr Pavilion, Bexhill-on-Sea; Arnolfini, Bristol; Fondazione Sandretto Re Rebaudengo, Turin; and The Tetley, Leeds. She was a joint winner of the Turner Prize 2019 and was shortlisted for the 8th edition of the Max Mara Art Prize for Woman. She is the co-founder and co-curator of artist-led digital film channel Transmissions.
Credits
Adam Sinclair - VFX Director, 3D Artist, Animator
Maxwell Sterling - Score & Sound Design
The Spirit of - Molly Moody
Stefano Tsai - Additional CG Artist
Lotti V Closs - Additional Modelling Support
Mika Lapid - Production Assistant
Recorded at Super Symmetry Studios with thanks to Aurelien and Solène.
Thank you to Emily LaBarge, Pia Borg, Aura Satz, Alison Katz , Jorge Nunes and Rod Hamlin.
The Neon Hieroglyph films are commissioned and produced by Manchester International Festival with in kind support from the Centre for Creative & Immersive Extended Reality (CCIXR) at the University of Portsmouth. The research and ongoing project are also supported by the British Art Show and the Serpentine Galleries' Back to Earth project.
LaTurbo Avedon
The first Virtual Factory project, Your Progress Will Be Saved, is an online experience created by avatar artist LaTurbo Avedon that reimagines The Factory within Fortnite Creative.
Your Progress Will Be Saved is a journey through LaTurbo Avedon's world – an adventure down a rabbit hole that leads ever-further away from reality, into depths that probe our relationship with multiuser spaces. Starting from a familiar-looking apartment, you'll soon escape into the more alluring online wonderlands of music, entertainment and social connection within a vast, virtual architecture. Some will find solace here – but others will look deeper, searching for the seams that hold the illusion together. Your progress will be further rewarded if you find your way out…
Your Progress Will Be Saved has been made within Fortnite Creative, a sandbox game developed and published by Epic Games. It's part of the hugely popular video game Fortnite, which is spearheading a new generation of online multiplayer games that combine socialising, live events and user-generated spaces.
Experience Your Progress Will Be Saved here.
About the artist
LaTurbo Avedon is an avatar and artist that exists solely online, creating work that emphasises the practice of non-physical identity and authorship. Avedon has spent the past decade developing a body of work that illuminates the ever-growing intensity between users and virtual experiences, pursuing creative environments that deepen the meaning of memories found in cyberspace.
Credits
LaTurbo Avedon - Artist
LaTurbo Avedon and Team Cre8 - Design and Gameplay
Thursday 15 April, 19:00 BST
Ignota Hosts: Tai Shani — The Neon Hieroglyph
Tai Shani presents The Neon Hieroglyph in a special event hosted by Ignota Books, featuring readings, a musical performance by composer Maxwell Sterling and a conversation between Shani and anthropologist Amy Hale exploring the feminised history of ergot, metaphysical and material realities and psychedelic mythos.
Ticket information to follow.
Contact
For the latest news on Virtual Factory and Manchester International Festival's digital projects, sign-up to our mailing list here. It's free and we won't pass your details to anyone else.
Access
We want as many people as possible to enjoy Virtual Factory, which we've developed with accessibility in mind. This website has been tested by individuals with visual, auditory and learning disabilities and their recommendations have been incorporated where possible, though we recognise that the site will not be fully accessible for everyone.
On this website:
All visual assets will be subtitled and any live streams will have closed captions where possible.
Where closed captions are not possible, transcripts will be made available.
You can watch a full tour of Your Progress Will be Saved here. This tour features an audio exploration of the artwork with closed captions supplied in settings.
On Fornite Creative:
Fortnite provides a number of settings that can be adjusted to improve your experience. If you would like to adjust the sensitivity of your controller, change the display settings or set up custom controllers and key mappings, you can do this from 'Settings' in any part of the game.
On PC, press the escape key and then click 'Settings'
On Playstation 4, Xbox or Nintendo Switch, press the Start button and then choose 'Settings'
On mobile, tap the icon in the top right corner and then tap 'Settings'
'Settings' has a number of tabs with different categories; navigate through these and adjust the settings as you like
For more information on accessibility, please contact access@mif.co.uk
Live on Fortnite
The Virtual Factory is now open in Fortnite Creative! Enter our Island Code to start your journey: 1248-2128-4287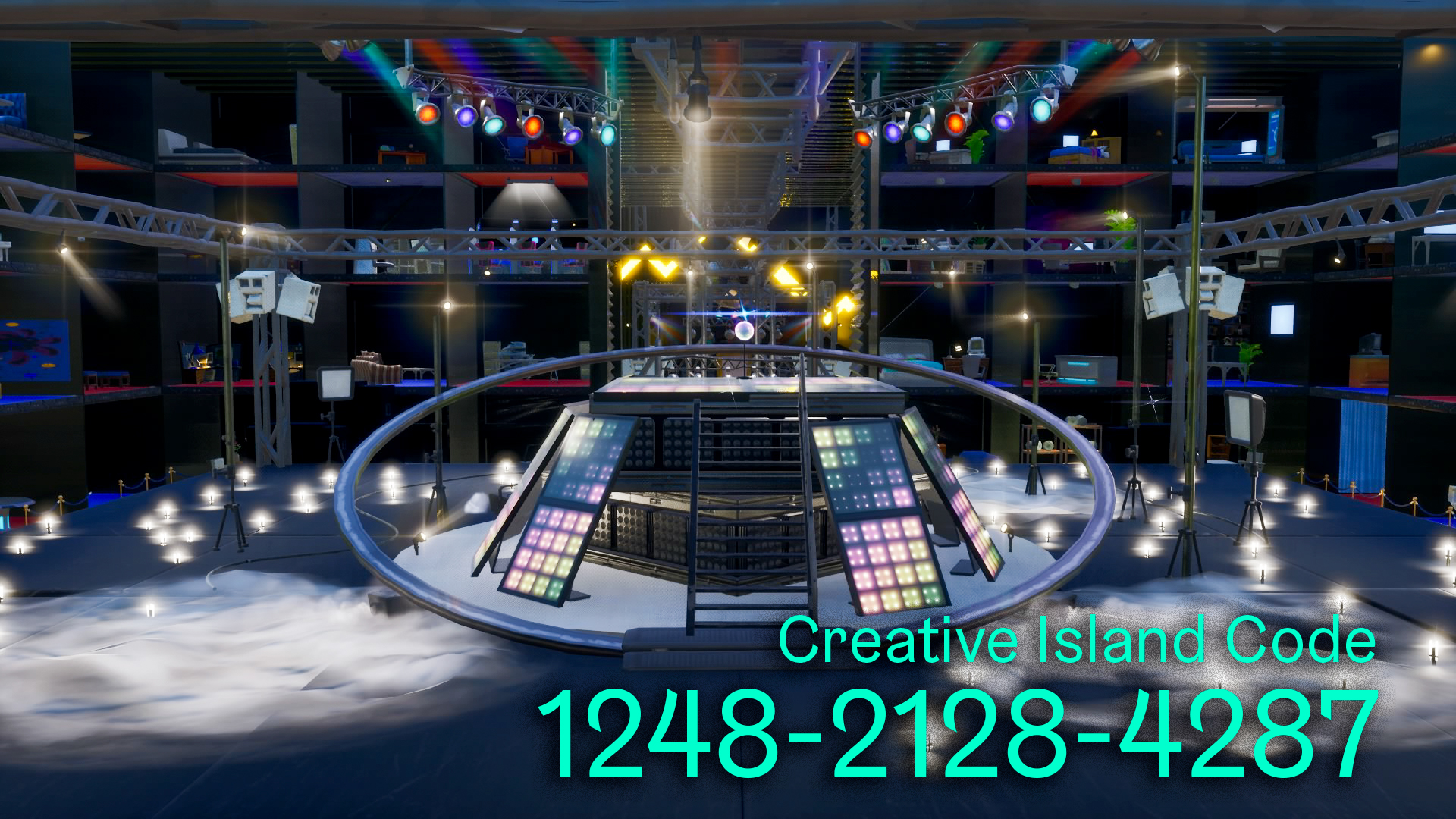 Your Progress Will Be Saved is set inside a reimagined version of The Factory within Fortnite's Creative mode. Separate from the popular Battle Royale format, Fortnite Creative allows players to create their own worlds with unique rules and gameplay.
If you are familiar with Fortnite, start a new Play server in Creative Mode and change the destination of any portal in the Creative Hub with the code 1248 2128 4287. Alternatively, you can click here to add The Factory to your Creative Island queue.
If you haven't played Fortnite before, you can install it on a PC, Android mobile device, PlayStation 4, Xbox One or Nintendo Switch. You'll need an internet connection to download and play the game, and we recommend using Wi-Fi rather than 4G if you're on mobile.
Fortnite is still available to play on Mac devices, but the recent Season 4 update is not available in this version. Available directly from the Fortnite website, this version features content from Season 3 and is not compatible with other platforms (you will only be matched with other Mac players). If you've previously installed Fortnite on an iPhone or iPad, you'll also be able to download Season 3 from your previous purchases in the App Store.
PC, Mac or Android
Follow this link and click the appropriate button to start downloading Fortnite to your device.
Open the file (or mobile app) you've just downloaded to download and install the full game.
If you've previously played any other Epic Games, click Yes, Find My Account and log in. If not, click No, Create an Account, and either connect using your Google or Facebook account or sign up with your email address to create a new Epic Games account.
The game will start by itself and will first show you a few videos and advertising screens relating to the most recent game updates. Click the button in the bottom right corner of the cross in the top right corner to skip this stage.
You'll eventually be taken to the Battle Pass menu. Look for the menu bar along the top of the screen and click the icon on the far left to go to the main menu.
To reach our island, follow the instructions below under Finding the Factory.
Playstation 4, Xbox One or Nintendo Switch
Go to the game store on your console and search for Fortnite.
Download the game and open it when it's ready.
You should be logged in automatically with the online gaming account connected to your console, and the game will start.
Watch or skip through the update videos and advertising screens, and make your way to the Main Menu.
To reach our island, follow the instructions below under Finding the Factory.
Finding The Factory
On the right-hand side of the main menu, you should see the current game mode with a button labelled Change. Click the button and select Creative from the menu.
Click Play and you'll see two options: Create and Play. Choose Play, and you'll be taken to the Creative Mode hub.
Ignore the portal directly in front of you and look for a row of 4-5 portals behind it. Walk up to any of them but don't walk through – instead, walk up to the computer console on the right-hand side of it.
When you see the prompt, press the button to Use Console and enter the code 1248 2128 4287 to change the portal's destination to our island.
Finally, walk through the portal! You'll be taken to our island and the game will start automatically.
Live on Twitch
Follow us on Twitch where we'll be streaming gameplay, tours and live events from the Virtual Factory.
You don't need to sign up for a Twitch account to watch our streams, but you will need a Twitch account to join in the live chat. You can watch from the video player below, or over on our Twitch channel.